Quick online insight into all your construction costs!
The No. 1 cost database in the Netherlands
Calculate your construction costs quickly and easily
Calculate
Construction Costs
Compiled by over 30 years of experience of the largest cost agency
In today's dynamic economy, the importance of construction cost management cannot be overestimated. The success of your projects and investments depends on your ability to control costs effectively. To do this you need access to cost data that you can trust. Finding relevant information is a complex task. A first incorrect estimate will cause the entire project to lag behind in terms of cost control.
Bouwkostenkompas provides a solution for this, with the correct assumptions in the beginning it is steered in the right direction. As a member, you have access to all this information through our unique online calculation tool, so you can effortlessly understand costs and keep your projects under control with ease.
# 1 online construction cost tool
Insights from leading specialists
Make accurate cost estimates in less than 5 minutes
20 industries with more than 1,000 key figures
Constantly updated with the latest cost trends
Current legislation and regulations included
The most complete database in the Netherlands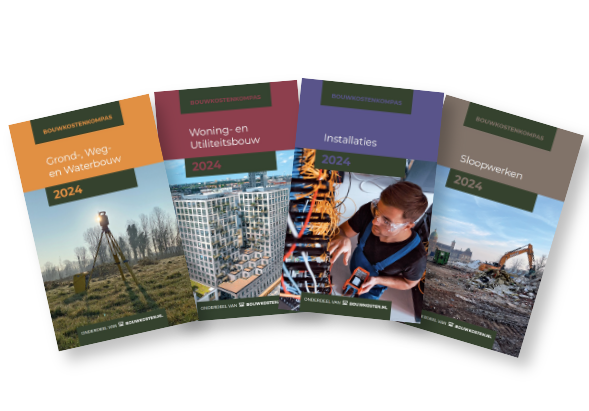 Including annual expenses BouwkostenKompas
With a subscription to the Bouwkostenkompas you will also receive the expenses for the Bouwkostenkompas. These are handy, clear expenditure with a large number of cost indicators with price influences.
We now have three publications, matching the different subscriptions. Residential and Non-Residential Construction, Earth, Road and Hydraulic Engineering and the Installations publication.
The publications are published every year at the beginning of February and with a continuous subscription you will always be the first to receive the most recent edition of the Bouwkostenkompas with your subscription.
Construction costs are constantly changing. The price of materials rises and falls under the influence of local and international economic factors, while transport costs, handling costs and labor costs can also vary greatly between different countries.
To help you gain a better understanding of how construction costs are developing within the Netherlands, IGG has set up comprehensive Dutch indices. These basic index figures are available to you with a subscription to BouwkostenKompas. If you would like more information about the indices of the different types of buildings, please subscribe bouwkostenindex.nl
Discover the benefits today
Our unique construction cost database gives you everything you need to manage your projects.